Welcome to the Press Page!
Below you will find a summary article of who we are and what we do. If you'd like any more information, a full album for review or would like to arrange an interview or appearance, we would be delighted to hear from you! please get in touch via [email protected]
Biography:
The New Scottish Hymns Band want to be understood – when naming their Glasgow 5-piece, they tried to be as straightforward and descriptive as possible, but maybe it still needs a little more explaining. Do they actually write hymns? Isn't that a little…18th century?
The band are Scottish, and the music has a predictable trad/folk flavour that is commonly associated with Scottish music. But Scotland (Glasgow especially) boasts a vibrant and heterogeneous music scene – this Glasgow band's recordings resonate with funk basslines, even incorporating subtle flavours of jazz, electro and hip-hop.
Much like Scottish music, worship music is not actually a genre united by specifically musical components. Its unifying factor is its goal: to bring praise to the God of the bible, to declare His attributes, and to communicate His goodness to a struggling world that has forgotten, rejected, or never even heard of Him.
We make sense of the world by classifying, though, so worship music has become to us a narrow cultural musical style. Look it up some worship playlists on Spotify, and you'll hear Coldplay-esque guitar lines with the delay pedal turned up, epic down-tempo drum grooves, ultra-simple three-note melodies, broad brush stroke lyrics over sweeping synth pads. You might be fooled into thinking that's the sum total of the character of God, bottled and packaged up, ready for delivery every Sunday morning by your local church praise team, so long as they have the right keyboard settings, and the PA system that can reproduce that stadium-level low end.
And while we're at it, we can classify hymns, too – staid, formal melodies played in a very measured way on a church organ, four part harmonies (if you're lucky) and a pause at the end of each verse while everyone catches their breath. Though if you've ever been to a funeral for a highland Free-church believer, you'll understand that hymns can be truly electrifying…
Of course, worship is not a style. Neither do hymns have to be played on a church organ.
The New Scottish Hymns Band write new hymns for the church. It's more than just a creative outlet for the band. It's actually a matter of obedience. The psalm says "sing a new song to the Lord", and that is what they do.
The New Scottish Hymns Band have a contemporary band line-up, with guitars, vocals, bass, drums and keyboards – but their musical roots extend back to the great hymn writers of Scotland's past. The band's songwriter & frontman Greg de Blieck cites 19th century minister Horatius Bonar, "The Prince of Scottish Hymn-writers" as a key influence.
The lyrics are poetic, hopeful, and unapologetically Christian, invoking former ages in church music, when songs were used to explain as well as challenge and inspire. This is not music with vague impressionistic words ready for you to superimpose your own truth – but if you want to understand how the world looks from the bible's perspective, you'll find it in these songs.  Musically, the New Scottish Hymns band draws on a variety of influences reflecting their diverse backgrounds. The overall sound is is both contemporary and traditional – timeless poetry framed in modern production. The songs are intentionally catchy – the point of a good hymn is that if you don't know the tune on the first verse, you'll be singing along by the second or third…
Songs from their 2012 debut album New Scottish Hymns are sung in churches across Scotland and around the world. The band released their second album We Shall All Be Changed in 2016.  2019 saw the release of their Christmas EP, A Light Now Dawns, as well as Joy Will Follow an album of "psalms, hymns and spiritual songs"…because worship is both a personal, reflective experience and a communal one to be enjoyed in fellowship with others.
The band performs mostly in church venues around Scotland and England, speaking about the biblical truth that underpins each of their songs, and the words appear behind them on a screen for each song, so you can sing along. Full of explicit scriptural ideas and paraphrasing, the band cites their aim as simply to encourage people with the good news about Jesus. They want to be understood, certainly – but not so that people understand who they are. They are not pop starts. They are a group of Christian musicians, flawed sinners like everyone else. They just want people to know who Jesus is.
It's not about preaching to the converted, or proselytising the unconverted – rather, they want to communicate what the bible actually says, the message that many have forgotten, or rejected, or simply never heard. When you listen to The New Scottish Hymns Band, they want their music to carry that message deeper into your soul.
Future concert and live streaming dates can be found at : www.newscottishhymns.com/events
Band name: New Scottish Hymns Band
Band members: Greg de Blieck (Vocals, Guitar), Ellyn Oliver, (Vocals, Guitar, Flute), Peter Crockett (Keyboards, Accordion, Trombone), Gus Stirrat (Bass), Richard Kennedy (Drums)
Latest album name: Joy Will Follow (2019)
Band website: www.newscottishhymns.com
Reviews:

'I have had the joy of listening to Greg de Blieck and the New Scottish Hymns Band – they blend a fresh 'ancient and modern' with insightful and inspiring words and music that tunes us into the melody of heaven – a joy'
J.John
Reverend Canon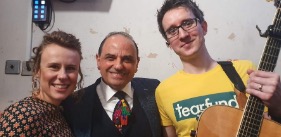 "…a determination to ensure that his songs are deeply rooted in Scripture as well as creating melodies that get stuck in the head like all good hymns should – helps make this release a success with the likes of the memorable opener "Wake Up My Soul" and the title track promoting the eternal hope found through Christ with urgent enthusiasm."
Lins Honeyman; Cross Rhythmns Review, 9/10
"The songs are clear, biblical, musical and singable…. I would highly commend this album."
David Robertson; The Wee Flea
Contact:
Ellyn Oliver or Greg de Blieck
Email: [email protected]
Social Media:
Facebook: www.facebook.com/newscottishhymns
Twitter: @nshymns
Instagram: @newscottishhymns
YouTube Channel: newworshipsongs