Lyrics
Hail to the Lord's anointed
Great David's greater Son.
Hail in the time appointed
His reign on earth begun
He comes to break oppression,
To set the captive free,
To take away transgression
And rule in equity.
He comes with succour speedy
To those who suffer wrong,
To help the poor and needy
and bid the weak be strong.
To give them songs for sighing
Their darkness turn to light
Whose souls, condemned and dying
Were precious in his sight.
He shall come down like showers
Upon the fruitful earth
And love, joy, hope, like flowers
Spring in his path to birth.
Before him, on the mountains
Shall peace, the herald, go
And righteousness, in fountains
From hill to valley flow.
Kings shall fall down before him
And gold and incense bring.
All nations shall adore him
His praise all people sing.
To him shall prayer unceasing
And daily vows ascend;
His kingdom still increasing
A kingdom without end.
O'er every foe victorious
He on his throne shall rest;
From age to age more glorious
All blessing and all-blessed.
The tide of time shall never
His covenant remove.
His Name shall stand forever
That Name to us is Love.
Devotional
Written by Scottish hymnwriter James Montgomery, Hail To The Lord's Anointed is a hymn that deserves to be better known than perhaps it is.  …it is of great value to the Christian to remember the status, power and identity of the one whom they are addressing This traditional tune (Moville) is not usually associated with it, but we like how the minor melody fits the dramatic lyrics.   While many modern worship songs rightly address Christ with intimacy and simplicity, it is of great value to the Christian to remember the status, power and identity of the one whom they are addressing. Montgomery draws on messianic psalms and prophecies as he paints the portrait of Christ, the coming king – both in reference to His first incarnation, and also looking ahead to when he returns to reign. Here we have a majestic warrior king, breaking oppression, giving liberty, ruling in strength and justice. Jesus is God's chosen one – He comes to transform the world, break the yoke of oppression and take His rightful throne. His methods, marked with gentleness and beauty are nevertheless unstoppable, eventually commanding the praise and submission of kings and nations forever. Above all, we who have cast ourselves on His grace and mercy should rejoice that now, this eternal king's "name, to us, is Love."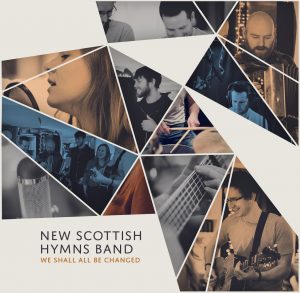 Get all We Shall All Be Changed resources with our album pack!
Download the MP3 recording, full sheet music, and all other available resources for all songs on the We Shall All Be Changed album at an exceptional value with our Album Pack bundle offer!